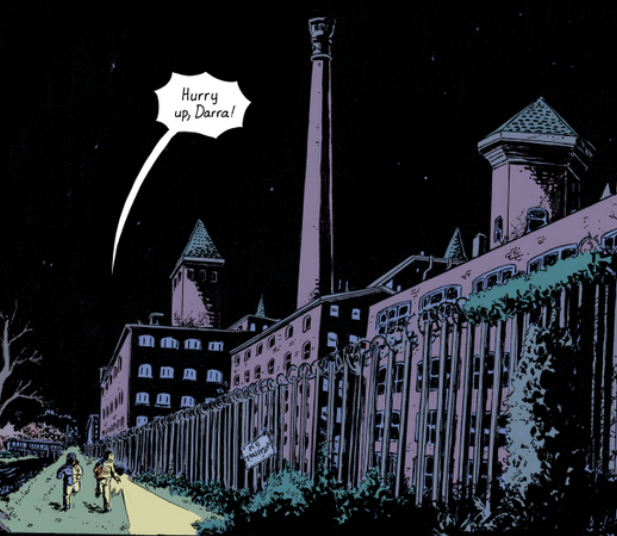 Hey all! Last month I talked about how The City Between being print first leaves my Patreon at a disadvantage when it comes to rewards. Well as both a thank you to the folks who have supported me while all the cons are canceled and in an attempt to try new rewards, I'll be  posting two new comics on my Patreon. They will both be for anyone that backs my patreon. 
The picture above is from the first page of Stars Hide Your Fire. Andrea and Darra are friends with different views of the future. Darra is anxious about what the adult world has in store, while Andrea sees it as an escape from their mundane little town. But the hunt for a rumored ghost pulls them towards opposite ends of a supernatural conflict that's been unfolding for 100 years.
I mentioned it last month. I wrote it, Jose Pimienta drew it, I colored it, and lettered it. It comes out from Iron Circus Comics in 2021. Until it's released, I'll be posting a page each Monday. This means only the first half will go on Patreon. This comic is also what Jose and I work on while streaming each Wednesday.
The other book I'll be posting on Patreon will be a more long term feature. I'm finally starting You are the Chosen One. Some of you might remember the concept art I posted the beginning of this year and some of last year. You are the Chosen One follows 23 kids who are given the same prophecy dream telling them that they are the chosen one.
Pages will go up every Friday. They will be for Patreon backers only, until my patreon reaches $1200 a month. Then it will start posting my website and the patreon version will just be however many pages ahead. The milestone after that is I'll update The City Between or You are the Chosen One faster.
Those two comics are where most of my focus has been the past month. That and I finished up some commissions. In June, I got edits on a commission, a freelance gig, and then the rest of the month I'm just continuing work on these.
I am also happy to announce that Dirty Old Ladies, my podcast with Spike Trotman and Amanda Lafrenais, is back to updating. A new episode about unions went up today. We have a decent buffer, so it should regularly update every other Wednesday from now on.
As for stuff I'm watching, reading, and enjoying, mostly it's been new volumes of comics I've already talked about. I got myself a new volume of Beastars and Vineland Saga. Beastars is starting to get into world building more. I think it's doing a good job of teasing out background info for the world, then circling back to it once it's important.
That's it for this month. Everyone thanks for your support. Please stay safe.